I got this book for free using but I promise all opinions are my very own!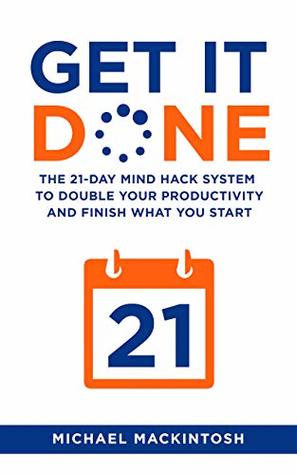 Get It Done: The 21-Day Mind Hack System to Double Your Productivity and Finish What You Start by Michael Mackintosh
Format: eARC
on Published September 25th 2018
the publisher Buy on Amazon
Goodreads


If You Only Had 21 Days Left to Live, What Would You Want to Accomplish Before You Go?
Bringing your most important ideas to life isn't easy. If you find yourself procrastinating, too busy to get your most important work done, or not sure how to get started, something needs to change before it's too late.

You're only going to live for a set number of years, and once your time is up you won't be able to check off your bucket list, accomplish that important goal, or achieve your dreams. So how can you possibly be too busy to get the most important things in life done?

If you're honest with yourself, you probably have a seemingly endless list of excuses—too busy, too tired, too… But deep down, there is a nagging feeling that something's wrong, and you know you could be further along in your work than you are now—if only you just did what you knew you needed to do.

The truth is life is complex, there will always be more work to do, and nothing you can do will change that. What you can do is learn a better system for dealing with life's complexity so you can handle it well.

That means you'll finally be able to get your most important work done faster and easier than ever before.

This book is for you if …
You're overwhelmed, overworked, and wanting more from life
You're under-achieving and under-delivering on your promises to yourself and others
You're tired of your own excuses because you know you can do better
You want more freedom, more income, and more impact
You have important work to do before you leave this world
And most importantly…

You're up for the challenge of achieving your biggest goals in life!
My Big Promise
I believe you could be at least 10 times more successful than you currently are. All you need to make this huge leap in productivity is to pay attention to what really matters, stay focused on your most important project, and stop wasting time working in the weeds (you know, those things you do that aren't getting you where you want to go in life).

I believe you have greatness within you. You have an important message to share and many lives to change. Once you get rid of those ineffective working habits, excuses for holding back, and annoying voices in your head, you'll be free to achieve your biggest goals and projects in life fearlessly—faster than you ever thought possible.

Today Can be the Day That Everything Changes for You
This book is designed to get you results in your business and life by giving you the systems, tools, and mindset you need to bring your biggest ideas and most important projects to life in 21 days or less.

By reading and applying the principles you're about to learn, you'll be able to:

Start Projects you've been putting off
Finish projects you've started but stalled on
Ship your work (get it out of your head, off your laptop, and into the world where it's meant to be)
Make more money (by completing projects that add massive value to the world)
And 10x your productivity…
…in 21 Day
I am a HUGE productivity nerd so when the publisher asked me to write a review I was all over it. One thing that I have found in books such as productivity books is that after a while it seems as if the authors read each other books then decide to change a thing or two give it a new name and claim that THIER book is different. I was pleased to see after I had read a couple of chapters that Get It Done WAS different,
I think that one of the reasons that I read so many productivity books is that I have a horrible procrastination problem. Case in point: This review was supposed to go up on Tusday (October 23, 2018) yet here it is Thursday night, and I am just now sitting down to write the review.
I was feeling a lot of resistance for the past two weeks with my writing, and I am so glad that it wasn't just me. That hundreds think this way also. I also learned that procrastination is a form of resistance and you have to show your Inner teenager who is boss.
Most productivity books are written with overwhelmed people in mind, not people who are overwhelmed because they did not get off their buts and doing it which is why such books Such as David Allen GTD method never worked for people like me.
In Get It Done however not only does the author Michael Mackintosh explain WHY we creative people tend to procrastinate he tells us HOW to overcome it. He was so convincing that I am going to try out my 21-day thingie. As soon as I figure out my top 20 tasks.
The top 20 percent is based on the theory that wealth and the like are distributed among 20 percent of the people but 80 percent…are something. I have never been all that good with theories like this but what I do understand is your top 20 of your tasks are what propels your life and projects forward while 80 percent of the work you do is just an attempt at looking busy.  So I guess the 4 hour work week is a valid strategy after all. L thought  that Get it Done explains it much better.
Another point Michael Mackintosh makes is how we tend to get stuck in rabbit holes with our phones and the internet. This is so true for me. I finally got fed up at my self, so I broke down and got a lifetime subscription to Freedom, I have it on all of my gadgets so if I am supposed to be working I can't get on the internet, and presto productivity tripled.
One thing that I loved about this book is that it acknowledges that time cant be managed, but instead, you should do your most important work when your energy is at its peak. I know for me that time is from 1 to 5 so that is when I write. I have tried to write early in the morning, but my brain won't cooperate until 1 pm. Another time it is gibberish.
These are the reasons that I loved Get it Done. If you feel like other productivity books, do not help your problem such as procrastination then give this book a try. It is full of ways to overcome procrastination and to move forward in your life and projects.
Get Posts in Your Email
Related Posts